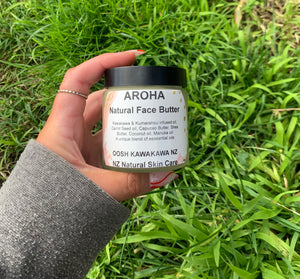 AROHA 
AROHA is a beautiful light facial butter, applied in the evening for best results makes your skin soft and fresh ready for another day.  This hydrating and replenishing daily face butter is a must for dry or sun damaged skin.
Made using 100% natural ingredients with naturally infused Kawakawa oil, Kumarahou oil, Capuacu (organic) butter, Rosehip, Carrot Seed essential oil, Evening primrose oil and so much more.
Use before bed at night as an intensive night moisturizer, assists in reducing inflammation, redness, Rosacea, Acne breakouts. Improves elasticity, nourishes extremely dry and flakey skin, hydrates skin exposed to the elements like face, elbows, heals, 
Great for men and women, reduces after shave rashes and leaves your skin soft and glowing, but not greasy.  Perfect for all skin types.