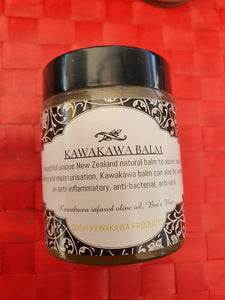 Kawakawa infused olive oil  with refined bees wax
Proven effective for all skin conditions, used for many years to heal skin ailments with natural anti inflammatory properties. 
Perfect for painful muscles, joint and bones.
Safe on babies
Amazing for massage
Proven effective for Excema, Dermatitis, Psoriasis, dry skin this has healed chronic excema with regular use, mixed with the magnesium bath salts infused with Kawakawa oil. 
Can be applied straight to skin as often as required, can be added to the bath etc.
The results from this oil have been overwhelming - perfect for babies heat rashes, teething rash, cradle cap, nappy rash.  Excellent for dads with Chaffing, Dry cracked hands, or dry skin.